Delete Images (Adviser Only)  You may find you have some images that just won't be used for anything - maybe they're too blurry or contain inappropriate content.  We know it's hard, but it's okay to delete them.
As an Adviser, you can delete these images from the Image Library. Click on the image thumbnail, it will highlight in blue,  and click Delete over the thumbnails.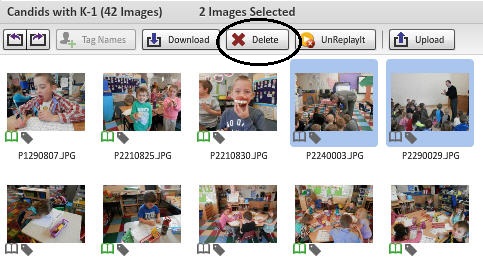 A Staff member may not delete images, however they can add a new category called "Delete" or "Remove" or "Review" so that they can help to keep the Image Library clean. The Adviser will be able to review all the images prior to deleting.
NOTE: If you are unable to delete an image from your Image Library, it has most likely been used on a page. You will need to remove it from your yearbook first, before it can be deleted. To view where it was used on your yearbook, double-click on it and open up the 'Details' tab. You can then view which page it has been used on and delete it.

Save
Save