ReplayIt Private Photo Submission is a tool that allows the completely private upload of images from people who are not part of your yearbook staff.
Here's how you can enable the ReplayIt Private Photo Submission on your yearbook site!
1) Login to your yearbook website and then open to the ReplayIT section under the Plan tab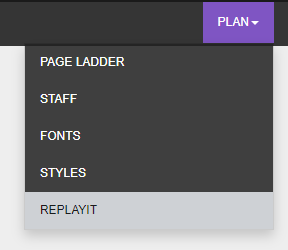 2) Enter the Start and End dates for the time-frame you wish to collect photos.

3) Specify the maximum number of images you wish to receive. The default value of 10000 is usually sufficient.

4) Click the Checkbox to enable your ReplayIt Private Photo Submission.

5) Save your changes
6) Copy the link to your ReplayIt Private Photo Submission site and send it out to Parents. I would not recommend using the Flyer as there are known access issues.
You can create your own flyer using the link, or request an updated flyer from your Yearbook Rep.

Once parents have uploaded photos, they will appear in the 'Inbox ReplayIt' folder of your Image Library (Create > Image Library). Drag and drop them to folders under the Activity Category to use them in your Yearbook.

What to include in email to parents
Include the ReplayIT Private Photo Submission Flyer, or outline the following

The images must be .jpg, .png, or .tif files and must be at least 300ppi resolution.

Include the date range for image collection.

Include the link and the User ID for Image Share. You can copy the link ABOVE the save button to have the User ID embedded directly.

Include YOUR contact information if a parent has questions about content.

FIRST NAME and LAST NAME on the image line should only be that of the main student featured in the image (or the left-most person). Additional names should be placed in the DESCRIPTION separated by commas. You'll be able to copy and paste this information into the People tab in the Image Library so that other students are tagged.

GRADE should either be N/A or should be the child's CURRENT GRADE.
Hints
DESCRIPTION is used for anything else the parent needs to provide, like additional names of students in the photo, the grade the student was in when the picture was taken, etc.

You may want to allow an extra week of cushion time in your "end date", but not advertise it. We receive frequent support emails that parents cannot log in and usually the site has expired the day before!

If parents can't upload anymore photos you will need to empty images from the Inbox ReplayIt folder to free up more image slots.
Why isn't my site working?
Check your start and end dates. If you want "test" your upload, your start date must be at least TODAY's date.
School Annual Support will not change dates or add more photo capacity to the Image Share Inbox without the Adviser's permission.
Save
Save
Save