The Page Designer is a powerful tool with many formatting options such as placing and cropping images, editing text, and adding clip art and backgrounds.
Use the Create menu to access the Page Designer or access the Page Designer from a thumbnail on the Page Ladder.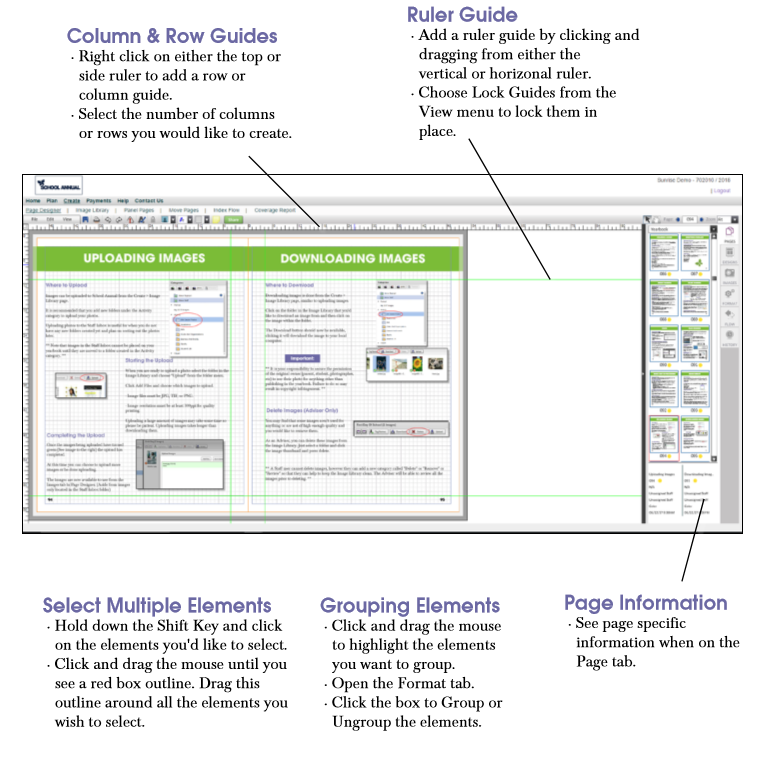 Page Designer Toolbar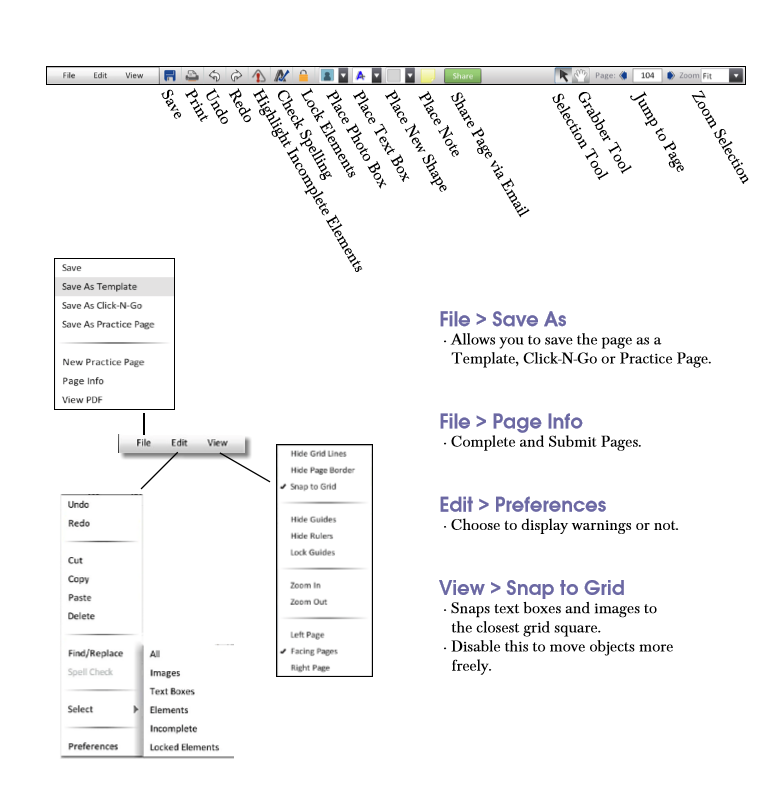 File
Save As Template creates a full page template based upon your current page. All images, text, and backgrounds are saved on the template. Dragging the saved template onto another page will overwrite any objects on that page.
Save As Click-N-Go saves single or multiple objects as a mini template. Dragging saved Click-N-Go's to another page will not overwrite any current objects on that page.
Page Info displays Page Ladder Section information and Description fields.
View PDF displays a low resolution PDF of your current page or pages for viewing and/or printing.
Edit 
Select All highlights all objects on a page. This is useful for clearing a page or for locking all items on a page.
Select Images / Text Boxes / Elements highlights all of that specific object. This is useful to apply formatting, such as adding drop shadow to all images.
Select Incomplete highlights all incomplete elements. Highlighting incomplete objects will show you object issues that will not allow your page to submit.
View
Hide/Show Grid Lines toggles the background graph paper. These lines do not print.
Snap To Grid toggles whether an object "snaps to" the nearest gridline.
Hide/Show Guides toggles the green guidelines that can be pulled from the horizontal and vertical rulers. These lines do not print. Right click in the corner with the guides meet to clear all of them from the pages.
Hide/Show Rulers toggles the horizontal and vertical rulers.
Left/Facing/Right Page displays whichever page is checkmarked.
Facing pages displays both left and right together.