With the Yearbook Ads Program, parents and businesses can create the ad right in an ad creation tool.
We'll take care of placing it on the page and handling the finances. Just tell us the types of ads you want to offer and let parents and businesses know they are on sale. Contact your account rep for promotional materials.
DETERMINE OFFER AND AD PRICES
There are four standard ad sizes you can offer:
Full page
Quarter page
Half page
Eighth page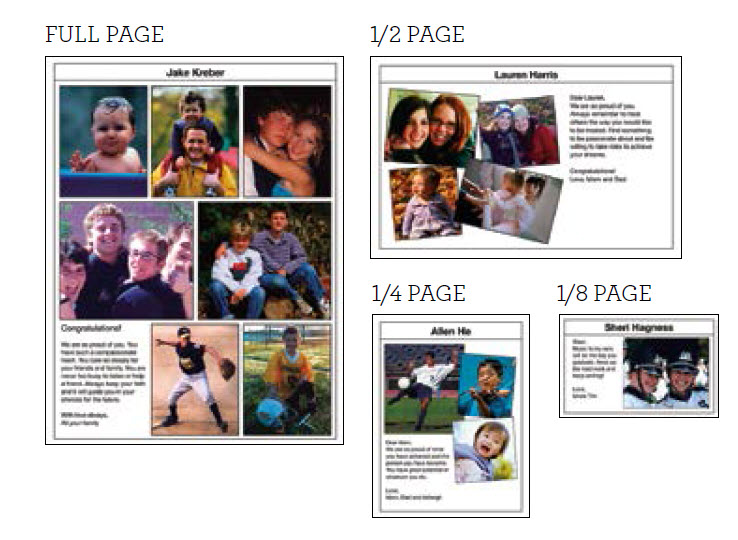 You can offer all four sizes, one size only, or any combination of the four. You can also choose to offer the ads in color, black and white, or both. If you have offered Recognition and/or Business Ads in the past, you'll have an idea of how much parents and business owners are willing to pay. If this is your first year, ask what other schools in your area charge.
Other important considerations include:
• Page cost
• Cost difference between color pages and black and white pages
• Your fundraising goals
Get started with your rep on Page Planning:
• Determine how many pages will be allocated to your ad section.
• How many will be in color?
• If you are offering color and black and white ads, discuss color placement with your representative.
ASSIGN PAGES IN THE PAGE LADDER
Use the Page Ladder on School Annual Online to assign pages to Jostens Yearbook Ads so we can build the pages for you as ads are sold. As ad pages are completed, we'll assign them back to you to review prior to submission and printing.
Keep in mind:
• Ad pages should be placed in the back of the book. If you have an index, it can be placed in front of the index.
• Using the Staff dropdown menu for each page, assign the page to Jostens Yearbook Ads. Indicate in the Description whether it is a recognition or business ad page.
• Determine if each page will be a color page or a black and white page based on the ad types you are offering. Make this color assignment using the Page Type dropdown.
SUBMITTING AD PAGES
Once the pages assigned to Jostens Yearbook Ads are complete, you can review and edit them
using all of the functionality of the School Annual Online Page Designer.


When an ad page has been completed by the plant, you will get an email notification. At that time, you may log in to School Annual Online and open the pages in Page Designer for review and editing.
When the page is ready for submission, go to the Page Ladder and pages that have been placed by the plant will be in Completed status. You may edit your ad pages in this Completed status.
When you are finished editing and ready to submit the pages for printing, submit your page using the Submit button on the Page Ladder. (Note: This button is only available with the adviser role. Students do not have the right to submit pages.) If the page is ready to go to the plant, click on Submit. Please proofread carefully. Once pages are submitted, no further changes can be made.
Be sure to watch the deadline date to make sure pages are submitted to satisfy your deadline
requirements and keep production of the book on schedule.
VIEW YOUR AD SALES REPORT
You can view all the ads you've sold directly from the School Annual Online website. Open the 'Payments' tab and then click 'Ad Sales'. You can download the report from this page as well!
If parents have questions about purchasing an ad or using the website, please refer them to the Jostens Yearbook Ads Consumer Support Center at (800) 358-0800.